Description
Offer in Prices ZUMO XT2. Detailed Topographic Maps – Buy GPS Garmin ZUMO XT2. Garmin ZUMO XT2 GPS for sale.
Warranty 3 years manufacturer GARMIN.
REFERENCE NUMBER
SKU 

010-02781-10
Garmin finally brings a GPS (ZUMO XT2) motorcycle device that Offroad lovers were waiting for. A rugged GPS following its ZUMO range for motorcycles, but this time oriented not only to the road, but to the Offroad to get off the asphalt and have fun on tracks, roads or simply through the field or Offroad. It will undoubtedly be a success since the Offroad lovers were demanding such equipment. The same thing Garmin has done with the Overladner (equipment for 4×4) has done it with this ZUMO. Give offroad lovers GPS solutions.
Option 1: GPS only.
Option 2: GPS memory card + 8 GB (+ € 15)
THE LIFE OF YOUR RIDE
You need throttle therapy. The zūmo® XT2 motorcycle sat nav is your prescription to hit the road, no matter where it goes. The bright 6″ display is glove-friendly and packed with features to help you find the perfect motorcycle route.
The bright 6″ display is easy to read, no matter the weather or light conditions.
Preloaded with MICHELIN Green Guide and Scenic Road
Create custom routes with the visual route planner.
Find the twists and turns with the Garmin Adventurous Routing™ setting.
See popular moto paths to discover new places to ride.
Start a group ride to see positions of other riders on the zūmo® XT2 motorcycle sat nav display1.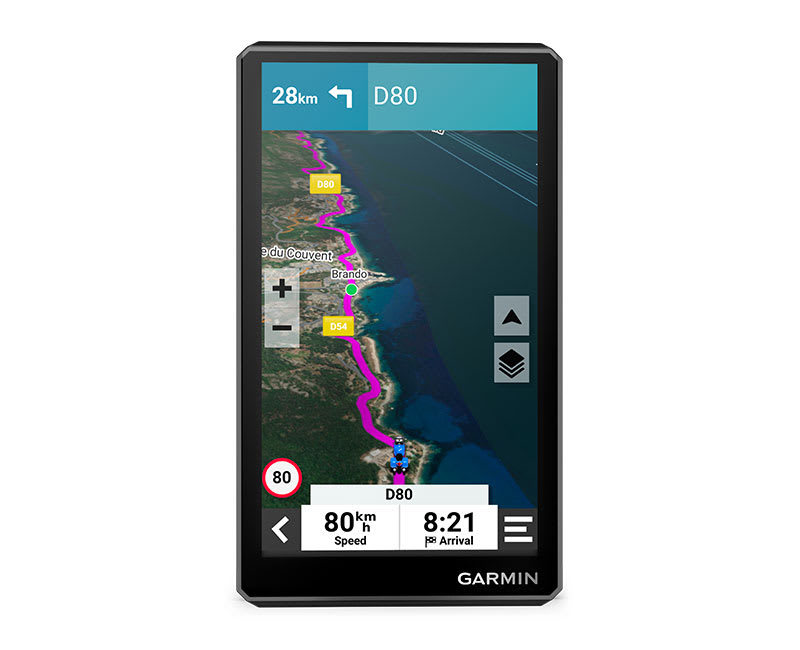 ULTRABRIGHT DISPLAY
The 6″ display is 15% larger than previous models and features an even brighter HD resolution in landscape or portrait mode.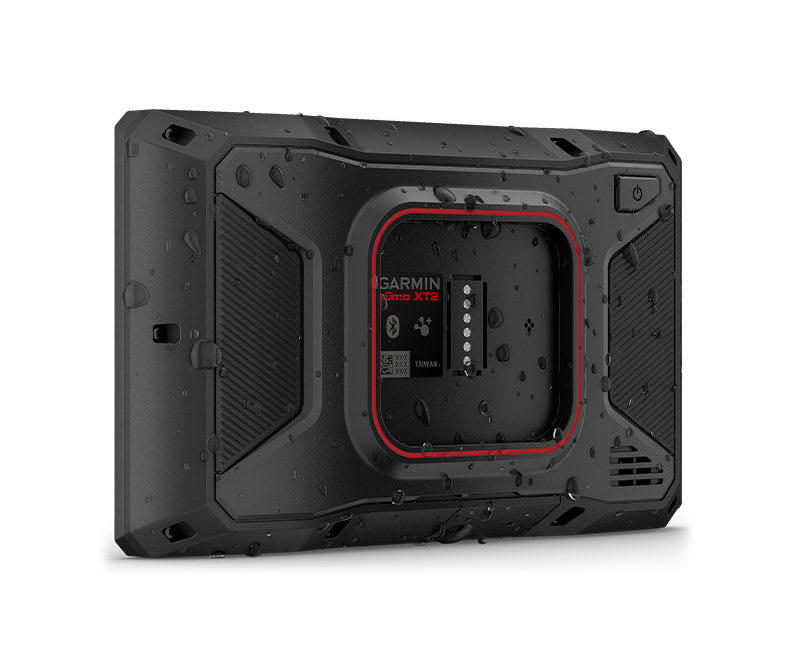 DESIGNED TO ENDURE
Rain? Vibration? Dust? Doesn't matter. This device is built to withstand all kinds of weather (IPX7) and rough terrain.
VISUAL ROUTE PLANNER
Plan a custom route on the device, or use the Tread® app with a compatible smartphone.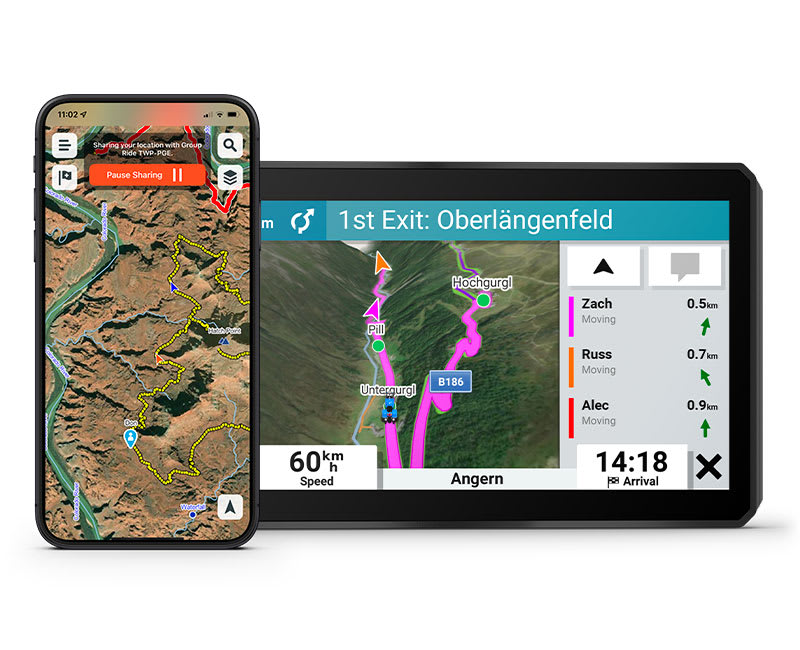 GROUP TRACKING
Use the Tread® app on your smartphone and/or zūmo XT2 motorcycle sat nav to track friends with the Group Ride Mobile feature1. Or, use the Group Ride Tracker accessory2 (sold separately) for tracking other zūmo® XT2-equipped riders with no mobile coverage needed.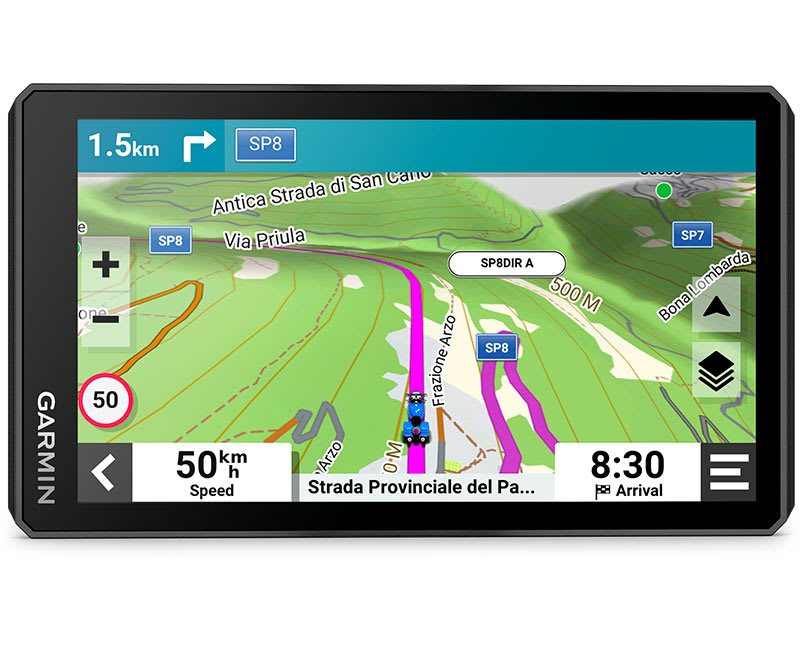 SIMPLE MAP SWITCHING
Quickly toggle between on-road maps, topographic maps and satellite imagery, so you can always have the perfect map for your ride.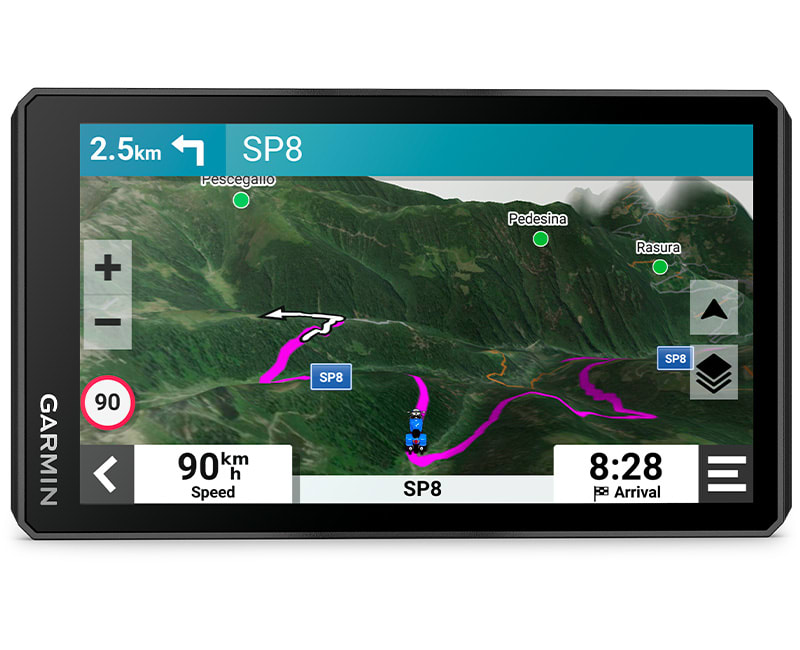 SATELLITE IMAGERY
Use satellite imagery from around the world to help you navigate. Download the maps directly to your device via Wi-Fi® technology3. No annual subscription required.
DESIGNED FOR RIDERS. ENGINEERED FOR MOTORCYCLES.
---
GARMIN ADVENTUROUS ROUTING
Straight roads are boring. Find the most thrilling routes with hills, curves and sights, and choose from 4 levels of difficulty.
MICHELIN SCENIC ROADS
Discover unforgettable rides with MICHELIN Scenic Roads. Easily integrate them into your journey with the visual route planner or ride them spontaneously by selecting the highlighted green route directly on the map.
POPULAR PATHS
See popular moto paths ridden by other riders to find new and exciting routes to explore.
RIDE SUMMARIES
Use the Tread® app to review your ride details, including speed, acceleration, decelerations, elevation and more.
TRACK RECORDER
Record your ride data such as speed, distance, acceleration and more and share the details with friends on the Tread® app.
SHARE YOUR FAVOURITE ROUTES
Easily send GPX files from your phone or third-party sources to your zūmo® XT2 motorcycle sat nav. Share GPX files with fellow riders by using the Tread® app.
MANAGE YOUR DATA
Easily manage4 tracks and routes across your sat nav and compatible smartphone by using the Tread® app.
---
MICHELIN GREEN GUIDE
Preloaded Green Guide from MICHELIN, including pictures, detailed descriptions and ratings, lets you know what's worth a stop.
TRENDY PLACES FEATURE
Discover the best spots along your route with suggestions for trendy places.
LOCAL SPOTS
Find local places to visit and exciting activities to try near your current location with local spot recommendations.
RIDER ALERTS
Get alerts for hazards along your route, such as upcoming sharp curves, speed changes and more.
MUSIC
Stream music from your smartphone through the zūmo® XT2 motorcycle sat nav, or play MP3 files stored on the device — all to your connected helmet or headset.
---
WIRELESS UPDATES
Built-in Wi-Fi3 connectivity makes it easy to keep your maps and software up to date without using a computer. On-screen cues show when new updates are available.
EXTENSIVE MAP COVERAGE
Preloaded topographic maps with 3D terrain and street maps for Europe and Middle East. Africa, including Tracks4Africa, North and South America, Australia and New Zealand maps are available as free downloads via garmin.com/express.
LIVE TRAFFIC AND WEATHER
Access real-time traffic and weather, share routes with other riders, and get phone notifications via the Tread® app4.
INCIDENT NOTIFICATIONS
If an incident occurs, a text message with location information is automatically sent to your predetermined contact4.
BLUETOOTH® CONNECTIVITY
Hear turn-by-turn directions or hands-free calling from your compatible smartphone through a connected helmet or headset.
INREACH® COMPATIBILITY
Pair the zūmo® XT2 motorcycle sat nav with a compatible inReach satellite communicator5 for two-way messaging, location sharing and, in case of emergencies, SOS capabilities.
CONTROL YOUR ACCESSORIES
Pair the zūmo® XT2 motorcycle sat nav with the compatible Garmin PowerSwitch™ digital switch box (sold separately) to enable on-screen control of your motorcycle's 12-volt electronics.
Get more from your zūmo® XT2 motorcycle sat nav with the Tread® app.
Communicate globally with inReach® satellite technology5.
Connect with other riders using Group Ride Tracker® technology2
General

DIMENSION

15.6 x 8.9 x 2.5 cm (6.15" W x 3.5" H x 1" D)

DISPLAY SIZE

13.3 x 7.5 cm (5.3"W x 3.6"H); 15.3 cm diag (6")

DISPLAY RESOLUTION

1280 x 720 pixels

DISPLAY TYPE

Multi-touch, glass, high brightness HD colour TFT with white backlight

DUAL-ORIENTATION DISPLAY

WEIGHT

340g (12 ounces)

WATER RATING

IPX7

BATTERY TYPE

Rechargeable lithium-ion

BATTERY LIFE

Up to 6 hours (up to 3.5 hours at 100% backlight)

DROP RATING

MIL-STD-810

HANDLEBAR MOUNT (UP TO 1″)
Maps & memory

PRELOADED STREET MAPS

DATA CARDS

microSD™ card (not included)

3D TERRAIN

INTERNAL STORAGE

32 GB

ABILITY TO ADD MAPS

STORAGE AND POWER CAPACITY

Yes (256 GB max microSD™ card)

INCLUDES MAP UPDATES

DOWNLOADABLE SATELLITE IMAGERY

Yes (BirdsEye)

BIRDSEYE DIRECT SATELLITE IMAGERY
Sensors

GPS

GALILEO

10 HZ MULTI-GNSS POSITIONING
Outdoor recreation

POINT-TO-POINT NAVIGATION

PRELOADED TOPOGRAPHIC MAPS

NAVIGATE-A-TRACK NAVIGATION
Navigation features

VISUAL ROUTE PLANNER

GARMIN REAL DIRECTIONS™ LANDMARK GUIDANCE
TRIPADVISOR® TRAVELLER RATINGS

ROUTE SHAPING THROUGH PREFERRED CITIES/STREETS

TRAFFIC UPDATES

Yes (with Garmin Tread app)

LANE ASSIST WITH JUNCTION VIEW (DISPLAYS JUNCTION SIGNS)

BLUETOOTH® CALLING

Yes (works with Bluetooth-compatible helmet, headset or smartphone. BLE capable.)

SPEED LIMIT INDICATOR (DISPLAYS SPEED LIMIT FOR MOST MAJOR ROADS)

DRIVER ALERTS FOR SHARP CURVES, SCHOOL ZONES, RED LIGHT AND SPEED CAMERA WARNINGS AND MORE
Advanced features

SMART NOTIFICATIONS VIA APP

WI-FI® MAP AND SOFTWARE UPDATES

ACCESS TO LIVE SERVICES VIA APP
Motorcycle features

CONTROL MUSIC AND MEDIA FROM SMARTPHONE OR MP3 PLAYER

SUNLIGHT READABLE AND WEATHER RESISTANT

GARMIN ADVENTUROUS ROUTING™

RIDER ALERT WARNINGS FOR SHARP CURVES, SPEED CAMERAS AND MORE

PLANNED & DYNAMIC FUEL STOPS

POPULAR PATHS (MOTO)

ELEVATION PROFILE

ROUND TRIP ROUTING

SERVICE HISTORY LOG

TRACK SUPPORT

CUSTOM MAP SUPPORT

TOPO MAP SUPPORT

WIRELESS ANT+® TECHNOLOGY
Adventure features

PAIR WITH COMPATIBLE INREACH® DEVICES

PAIR WITH GARMIN POWERSWITCH™ DIGITAL SWITCH BOX

COMPATIBLE WITH GROUP RIDE TRACKER

Yes (6″, 8″ and 10″)

GROUP RIDE MOBILE

TRACK RECORDER (BREADCRUMBS)

COMPATIBLE WITH THE GARMIN TREAD APP FOR ROUTE PLANNING AND DATA MANAGEMENT (WAYPOINTS, TRACKS, AND ROUTES)

GLOVE-FRIENDLY TOUCHSCREEN
In The Box:
zūmo® XT2

Motorcycle mount and hardware

Motorcycle power cable

Charging/data cable

Documentation