Description
Montana 700i InReach Price Offer. Detailed Topographic Maps of the country you want – Buy GPS Garmin Montana 700i InReach. Garmin Montana 700i InReach GPS for sale.
Navegador GPS con pantalla táctil resistente y tecnología inReach®
ADÉNTRATE EN LA NATURALEZA CON CONEXIÓN POR SATÉLITE
Para mantener a los aventureros en contacto y por buen camino, el dispositivo de navegación Montana 700i combina la flexibilidad de la navegación en carretera o fuera de ella con mensajería global y alertas SOS interactivas mediante la tecnología de comunicación por satéThis GPS model comes from the factory without detailed maps. With the purchase we offer you on offer the topographic maps of the country you want for only € 15 more on an 8 GB class 10 card. Normal price of sale of the card without buying GPS of € 40. With these maps you will not have to buy or spend extra money on maps to take advantage of this great GPS. We also offer you to have the same detailed topographic map of the country that you want on a DVD (+ € 10) to be able to see the topographic map on a PC or MAC (if it is MAC, tell us) and thus study the terrain and routes before leaving with the GPS to the field or the mountain.
Before adding the product to your shopping cart, choose from the drop-down if you only want the GPS, with a card, with a DVD for PC or with everything.
GO INTO THE WILD WITH A SATELLITE CONNECTION
To keep adventurers in touch and on track, the Montana 700i handheld combines the flexibility of on- or off-road navigation with global messaging and interactive SOS via inReach satellite technology1.
Big news. A full QWERTY keyboard lets you easily type messages.
Wander wider and still stay in touch — with inReach for messaging and 24/7 SOS.
Routable TopoActive Europe maps. Now you're free to take it off-road or on.
Meets MIL-STD 810 for thermal, shock, water and vibration.
Get the clear perspective of BirdsEye Satellite Imagery right to your device.
Power your adventures with 18+ hours of lithium-ion battery life in GPS mode.
Link up from way out — with inReach technology.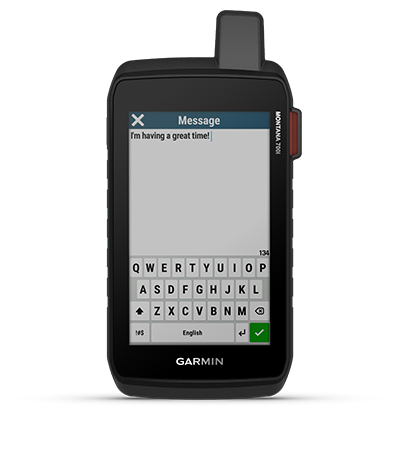 TWO-WAY MESSAGING
Exchange text messages with loved ones, post to social media, or communicate via inReach device to inReach device in the field (active satellite subscription required).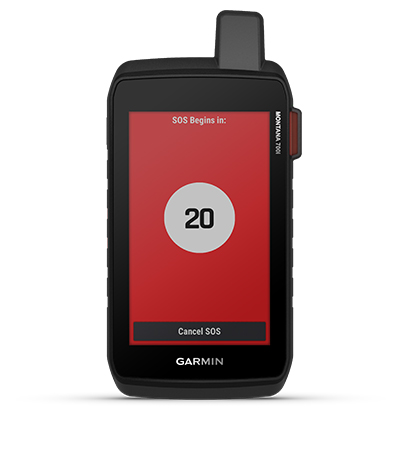 INTERACTIVE SOS
In case of emergency, trigger an interactive SOS message to GEOS, a professional 24/7 global monitoring and response centre (active satellite subscription required).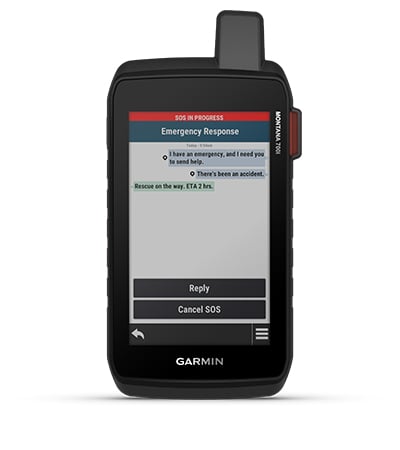 GLOBAL CONNECTIVITY
Instead of relying on cellphone coverage, now your messages, SOS and tracking are transferred via the 100% global Iridium® satellite network (active satellite subscription required).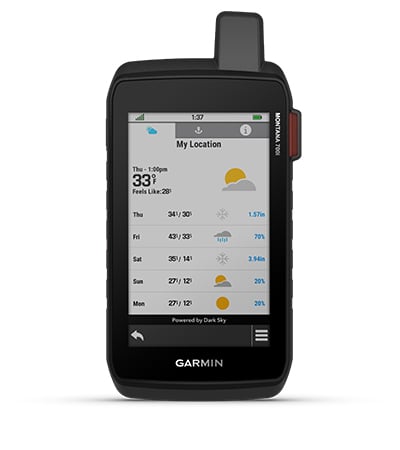 INREACH WEATHER
Available inReach weather forecast service provides detailed updates directly to your Montana handheld or paired devices, so you'll know what to expect en route.
Be prepared. With navigation for any situation.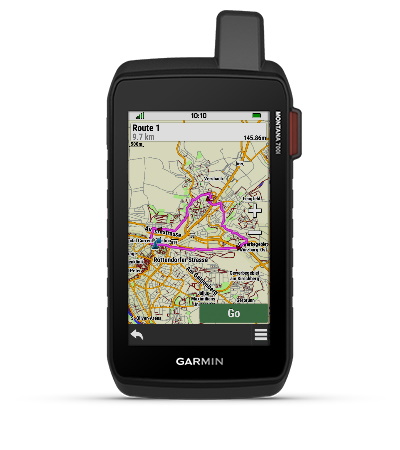 RUGGED BY DESIGN
This durable, water-resistant handheld is tested to U.S. military standards and features a glove-friendly 5" touchscreen that's 50% larger than previous Montana models.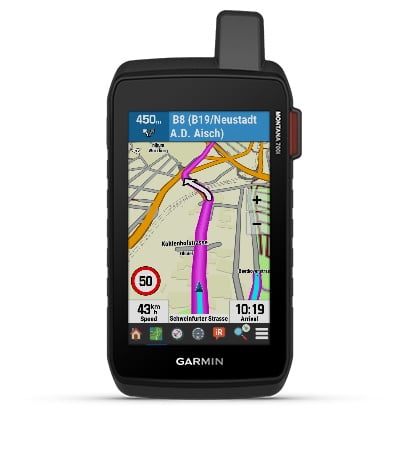 CITY NAVIGATOR MAPS
Seamlessly transition from trails to road navigation with preloaded City Navigator street mapping, which guides your drive with easy-to-follow turn-by-turn directions.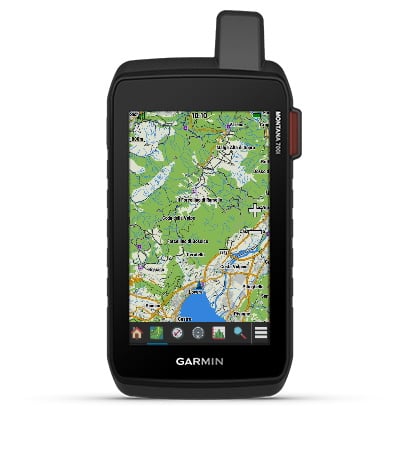 TOPOACTIVE EUROPE MAPS
To navigate your adventures, use preloaded TopoActive Europe maps. View elevations, coastlines, rivers, landmarks and more.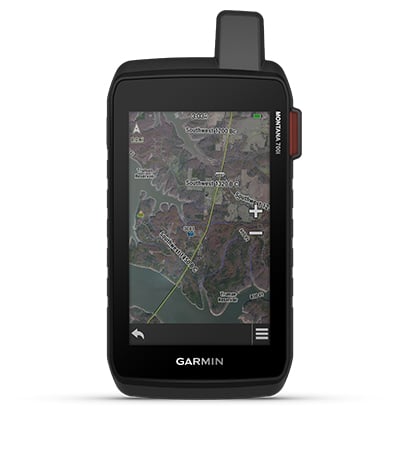 SATELLITE VIEWS
Use direct-to-device downloads of BirdsEye Satellite Imagery (no annual subscription required) to see photo-realistic views and create waypoints based on landmarks.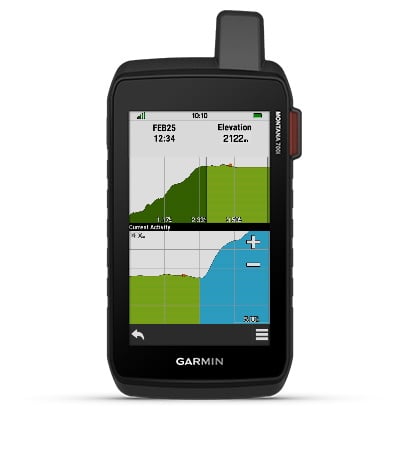 ABC SENSORS
Navigate your next trail with ABC sensors, including an altimeter for elevation data, barometer to monitor weather and 3-axis electronic compass.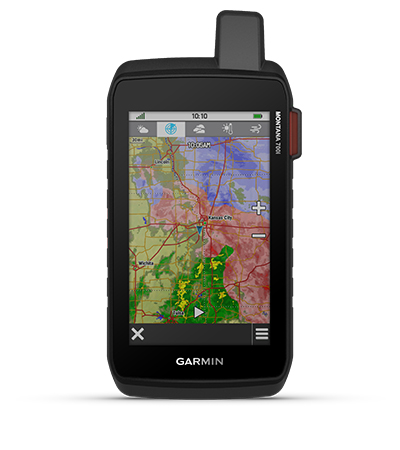 ACTIVE WEATHER
Use cellular connectivity2 to access up-to-date Active Weather forecasts through the Garmin Connect™ app.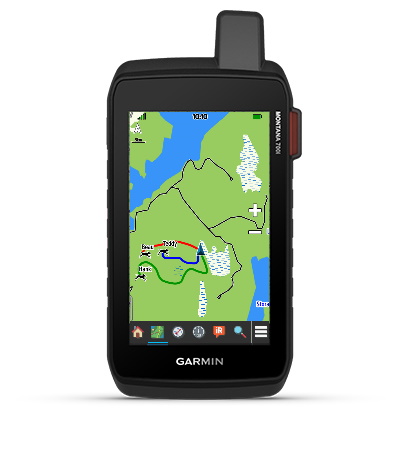 DOG TRACKING
This Montana syncs with compatible Atemos series handhelds (sold separately) to help track dogs in the field.
Stay on track while venturing off-grid.
MULTI-GNSS SUPPORT
Access to GPS, GLONASS and GALILEO satellite networks enables Montana® 700i to track in more challenging environments than GPS alone.
TRACKING
Track your location, and share it with those at home or out in the field. They´ll be able to see your progress or ping your device for your GPS location and more via your web-based MapShare™ trip-sharing page. (Montana 700i, 750i only – satellite subscription required).
EXPEDITION MODE
Trek far and wide off-grid. Use Expedition mode, an ultralow-power GPS reference, to keep Montana tracking for a week or more between recharges.
EXTENDED BATTERY LIFE
An internal, rechargeable lithium-ion battery pack provides more than 18 hours of battery life in GPS mode.
VEHICLE MOUNTS
A variety of Montana handheld-compatible mounts (sold separately) lets you adapt your navigator for use on ATVs, boats, cars, motorcycles, RVs or other vehicles.
Garmin Explore™ App for off-grid navigation and more
Communicate globally with inReach® satellite technology
General

PHYSICAL DIMENSIONS
9.19 x 18.30 x 3.27 cm
TOUCHSCREEN
DISPLAY SIZE
6.48 x 10.80 cm; 5″ diag (12.70 cm)
DISPLAY RESOLUTION
480 x 800 pixels
DISPLAY TYPE
WVGA transflective, dual orientation
WEIGHT
410 g with included lithium-ion battery pack
BATTERY TYPE
rechargeable lithium-ion (included)
BATTERY LIFE
GPS Mode: up to 18 hours
Expedition Mode: up to 330 hours
GPS Mode, 10 min Tracking: up to 18 hours
Expedition Mode, 30 min Tracking: up to 300 hours
WATER RATING
IPX7
MIL-STD-810
yes (thermal, shock, water, vibe)
HIGH-SENSITIVITY RECEIVER
INTERFACE
High speed micro USB and NMEA 0183 compatible
MEMORY/HISTORY
16 GB (user space varies based on included mapping)
Maps & memory

PRELOADED MAPS
Yes (TopoActive Europe)
ABILITY TO ADD MAPS
BASEMAP
AUTOMATIC ROUTING (TURN BY TURN ROUTING ON ROADS)
Yes (with optional mapping for detailed roads)
MAP SEGMENTS
15000
BIRDSEYE
Yes (direct to device)
INCLUDES DETAILED HYDROGRAPHIC FEATURES (COASTLINES, LAKE/RIVER SHORELINES, WETLANDS AND PERENNIAL AND SEASONAL STREAMS)
INCLUDES SEARCHABLE POINTS OF INTERESTS (PARKS, CAMPGROUNDS, SCENIC LOOKOUTS AND PICNIC SITES)
DISPLAYS NATIONAL, STATE AND LOCAL PARKS, FORESTS, AND WILDERNESS AREAS
STORAGE AND POWER CAPACITY
Yes (32 GB max microSD™ card)
WAYPOINTS/FAVOURITES/LOCATIONS
10000
TRACKS
250
TRACK LOG
20000 points, 250 saved gpx tracks, 300 saved fit activities
ROUTES
250, 250 points per route; 50 points auto routing
RINEX LOGGING
Sensors

GPS
GALILEO
BAROMETRIC ALTIMETER
COMPASS
Yes (tilt-compensated 3-axis)
GPS COMPASS (WHILE MOVING)
Daily smart features

CONNECT IQ™ (DOWNLOADABLE WATCH FACES, DATA FIELDS, WIDGETS AND APPS)
SMART NOTIFICATIONS ON HANDHELD
WEATHER
VIRB® CAMERA REMOTE
COMPATIBLE WITH GARMIN CONNECT™ MOBILE
ACTIVE WEATHER
Safety and Tracking Features

LIVETRACK
Outdoor Recreation

POINT-TO-POINT NAVIGATION
COMPATIBLE WITH BASECAMP™
AREA CALCULATION
HUNT/FISH CALENDAR
SUN AND MOON INFORMATION
XERO™ LOCATIONS
GEOCACHING-FRIENDLY
yes (Geocache Live)
CUSTOM MAPS COMPATIBLE
yes (500 custom map tiles)
PICTURE VIEWER
LED BEACON FLASHLIGHT
inReach® features

INTERACTIVE SOS
SEND AND RECEIVE TEXT MESSAGES TO SMS AND EMAIL
SEND AND RECEIVE TEXT MESSAGES TO OTHER INREACH DEVICE
EXCHANGE LOCATIONS WITH OTHER INREACH DEVICE
MAPSHARE COMPATIBLE WITH TRACKING
VIRTUAL KEYBOARD FOR CUSTOM MESSAGING
Outdoor applications

COMPATIBLE WITH GARMIN EXPLORE™ APP
GARMIN EXPLORE WEBSITE COMPATIBLE
DOG TRACKING
yes (when paired to compatible dog track system)
Connections

WIRELESS CONNECTIVITY
Yes (Wi-Fi®, Bluetooth®, ANT+®)
In The Box
Montana® 700i
Lithium-ion battery pack
USB cable
Documentation